Show your autosampler some love with a new enclosure! ❤
Valentines promotion on an ENC-550 - FREE SHIPPING!*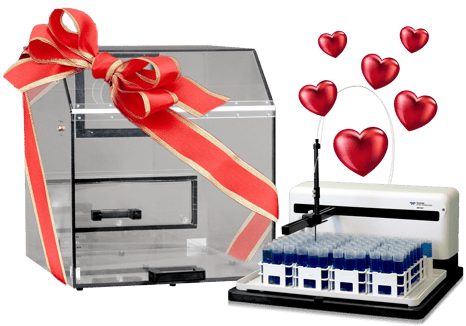 Have you been neglecting your autosampler? Has your autosampler been working hard for you? Why not show your autosampler some love by purchasing a new enclosure (ENC-550) and get free shipping.
The ENC-550 Anti‑Contamination Enclosure protects your samples and your bottom line. Impurities from foot traffic, long overnight runs, ceiling tiles, air-conditioning and dust can all wreak havoc on your
trace element analysis. The ENC-550 has got you covered for clean automated analysis.
Some of the benefits the ENC-550 will provide:
Contaminant Minimization: Covers samples to protect them from environmental particulates.
Fume Displacement: Noxious and corrosive gases are vented away from the work environment, protecting
equipment and personnel.
Inert Atmosphere Capabilities: Available feed-through charges enclosure with non-reactive gas, safeguarding integrity of highly sensitive samples.
Limited quantity available so don't disappoint your autosampler. Get your enclosure today!
*Standard Terms and Conditions apply. / Offer valid in USA and Canada only.
Offer ends April 30, 2018 or until inventory runs out, whichever is sooner.
Not valid on other enclosures offered by Teledyne CETAC.
Interested in an Enclosure